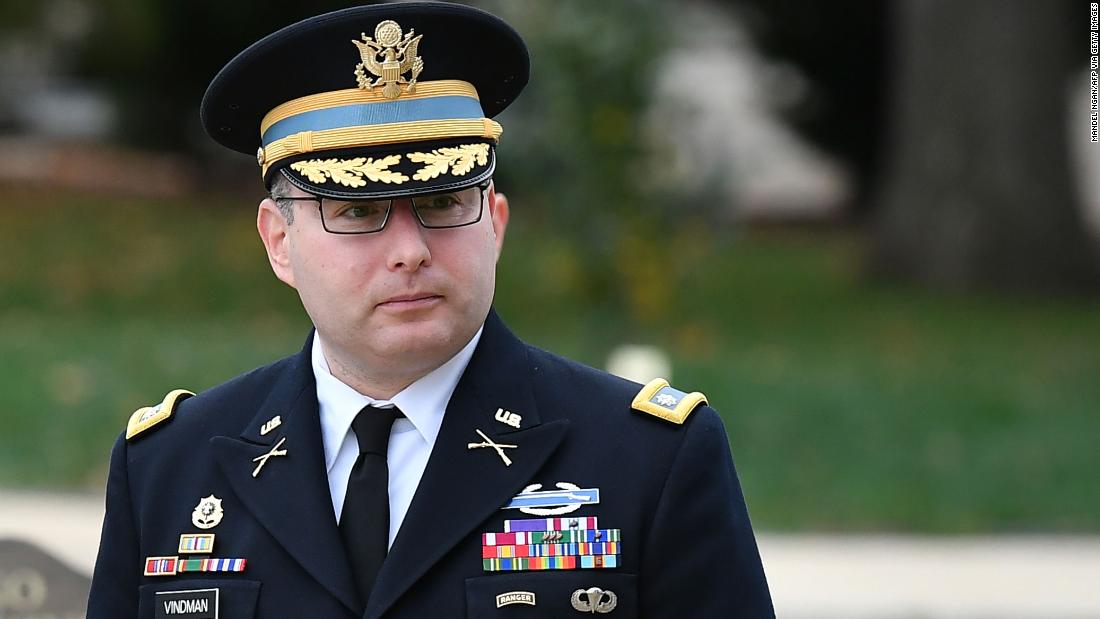 Lt. Col. Alexander Vindman, a star witnesses in the inquiry that led to the impeachment of President Trump, was dismissed from his post on the National Security Council and escorted from the White House Friday, according to his lawyer.
"Vindman was asked to leave for telling the truth," David Pressman, Vindman's lawyer said in a statement. "His honor, his commitment to right, frightened the powerful."
The Ukrainian-born officer, who came to the U.S as a childhood and received a Purple Heart for combat wounds in Iraq, testified about listening to Trump's July 25 phone call with Ukrainian President Volodymyr Zelensky.
"I was concerned by the call, what I heard was inappropriate, and I reported my concerns to Mr. Eisenberg," Vindman, who was the top Ukraine expert on the National Security Council, told House lawmakers about the call in which Trump asked Zelensky to investigate former Vice President Joe Biden and his son Hunter.
"It is improper for the president of the United States to demand a foreign government investigate a U.S. citizen and a political opponent," Vindman testified. "It was also clear that if Ukraine pursued an investigation into the 2016 election, the Bidens, and Burisma, it would be interpreted as a partisan play."
Trump and his supporters have criticized Vindman's account of what the president terms his "perfect call" with Zelensky, which led to a whistleblower complaint, not by Vindman, that kicked off the impeachment inquiry.
Shortly before Vindman was escorted from the White House, Trump signaled to reporters that his ouster was imminent. "I'm not happy with him," Trump said of Vindman.
Vindman's twin brother, Yevgeney, who had served as an ethics lawyer for the NSC, was also dismissed from his position Friday, Bloomberg reported.
Vindman is expected to be reassigned to the Pentagon, where officials have pledged he will not face further retaliation.
"We protect all of our service members from retribution or anything like that," Defense Secretary Mark Esper said Friday.
Vindman is not the only administration official who testified to the House inquiry to be reassigned. On Monday, Jennifer Williams, a State Department employee on Vice President Mike Pence's staff, was granted a request to leave her rotation at the White House early. Williams, who testified alongside Vindman during the impeachment inquiry, described Trump's call with Zelensky  "improper" and "unusual." 
William Taylor, who served as the acting U.S. ambassador to Ukraine and testified in the impeachment inquiry, left his position in early January.
Taylor testified about the "unusual" channel of diplomacy being carried out in Ukraine by Trump's personal lawyer Rudy Giuliani, and further established the president's direct involvement with pursuing a foreign investigation of Biden.
"Following the call with President Trump, the member of my staff asked Ambassador Sondland what President Trump thought about Ukraine," Taylor testified. "Ambassador Sondland responded that President Trump cares more about the investigations of [Joe] Biden, which Giuliani was pressing for."
Gordon Sondland, the U.S. envoy to the European Union, also testified in the House inquiry. He is still in office.
In a Friday interview with CNN's Jake Tapper, Taylor blasted critics of Vindman and former U.S. Ambassador to Ukraine Marie Yovanovitch.
"It of course bothers me any time I see someone like Masha Yovanovitch or Alex Vindman unfairly attacked," Taylor told Tapper.
Trump recalled Yovanovitch from her post in Kyiv in May after complaints from Giuliani and others outside of the administration.
Like Vindman, Yovanovitch was portrayed by the president's supporters as a "Never Trumper."
"There's a reason why she got fired," Rep. Devin Nunes, D-Calif., said in an interview Thursday evening. "This is one of the things we could never really get out because we couldn't bring in witnesses, but you know, we had people that we were ready to bring in that said that she was anti-Trump, espousing anti-Trump administration views while she was ambassador to Ukraine. That's her boss."
In an op-ed published Thursday in the Washington Post, Yovanovitch, who is now senior State Department fellow at Georgetown University, took issue with the Trump administration's handling of diplomacy.
"This administration, through acts of omission and commission, has undermined our democratic institutions, making the public question the truth and leaving public servants without the support and example of ethical behavior that they need to do their jobs and advance U.S. interests," Yovanovitch wrote.
AOL.COM
https://www.aol.com/article/news/2020/02/07/white-house-fires-impeachment-witness-vindman-in-ongoing-purge/23921086/